J'adore Paris! Patterns for francophiles
Tuesday, 8 March 2016 | Karla
Oui! C'est vrai!
I mean, who doesn't? Well, I didn't, the first time I went way back in 1986, but that was more about the person I was with than the city itself!
Since that time I've had the pleasure of learning French, working in Northern France and, even better, holidaying in Normandy as often as I can. As the weather improves, Mr Jordan and I are beginning to plan our summer holiday. Because of the shop, we only take short breaks most of the time, and one of our favourite destinations is France. Even if we can't make it there this year, there are other ways of enjoying the essence of that wonderful country.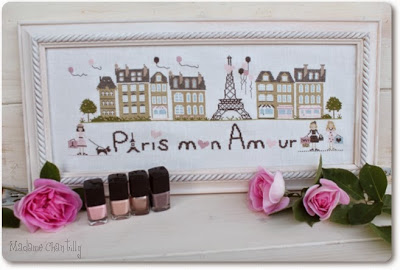 Madame Chantilly's "Paris mon Amour" is our latest addition and blends shades of coffee and pink to lend a modern twist to the kawaii style of design. I love it.
It's not a large project at 271 x 104 stitches, and is stitched entirely in DMCs making it an affordable treat.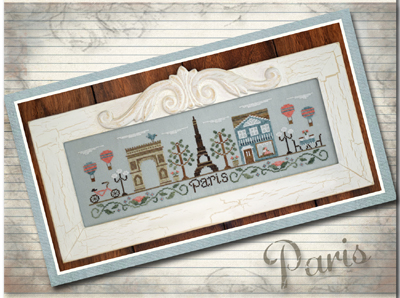 Country Cottage Needleworks' "Afternoon in Paris" is definitely a bit more on the cute side and the trademark CCN style motifs are in attendance, like the trees and boutique shop front. I love the nouveau style lettering and the streetlights. Very evocative!
Again, this is a long, rather than square, project, so you'll need a long cut of your chosen fabric. It's stitched with a mix of DMCs, Classic Colorworks, Gentle Art Sampler Threads and Weeks Dye Works.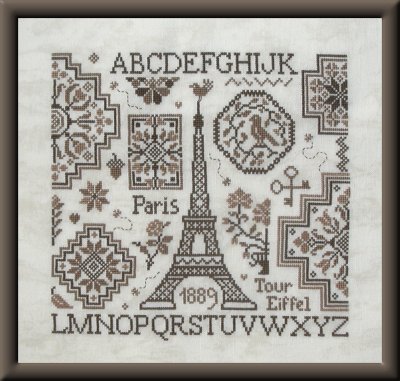 Jardin Prive's "Eiffel Quaker" is very different to the two previous designs. The Eiffel Tower is there, of course, but the quaker style brings a much more primitive feeling to the project. You can stitch this project in any colours you like and at 150 x 143 stitches, it's not a large project. Nathalie of Jardin Prive gives two different colourways in the pattern, but this would be a great opportunity to exercise your creative muscles and maybe use up some stash!